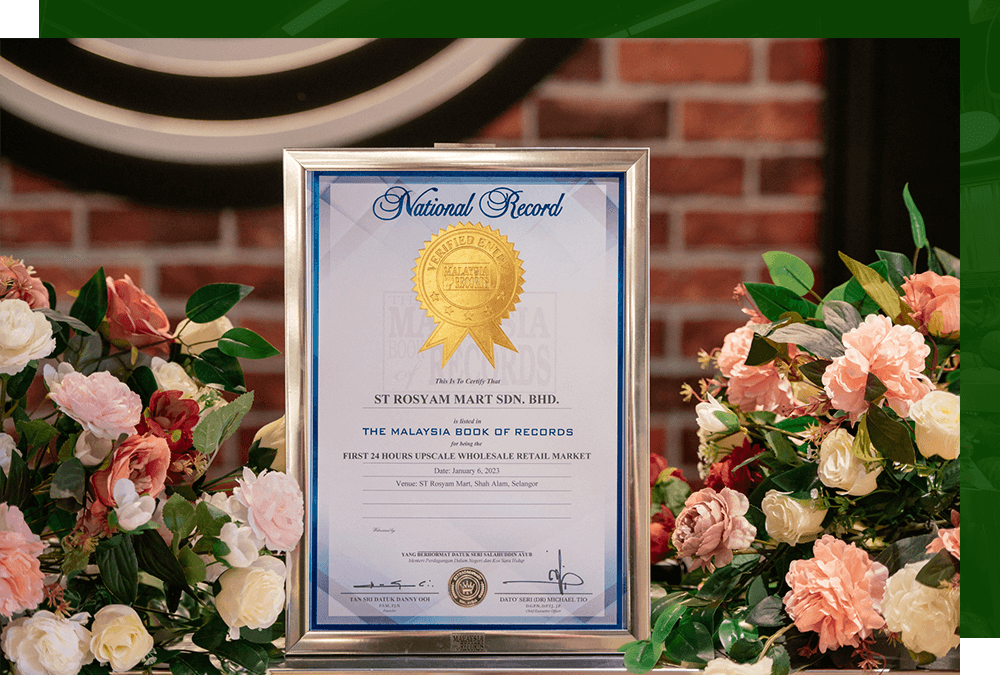 As the kick start of 2023, ST Rosyam Mart has officially became the national record holder for
MALAYSIA FIRST 24 HOURS UPSCALE WHOLESALE RETAIL MARKET
We believe that everyone deserves access to affordable, fresh, high-quality groceries. Join us in our mission to make wholesale grocery shopping a more economical and enjoyable experience for customers and business owners in Malaysia.
Discover great savings and convenience, where affordability meets your business needs, 24 hours a day, all year round!
Sri Ternak Brand Promises

We are open 24/7 All Year

Quality Fresh Food

Great Shopping Environment

Convenient Services

Wholesale Quantity Product

Serve with Excellence
We serve with Enthusiasm, Professionalism and Excellence.

Passion for Winning
We carry the Champion Mindset and are hungry for success.

Teamwork
We work as a team to achieve greater heights and trust our team will deliver.

Never Stop Growing
We continuously acquire new knowledge, innovate and improvise for growth.

Integrity
We do what is right and are accountable towards our customers and community. We always speak the truth and keep our words.

Value Time
Time is precious and we always act fast while striving for First Time Right.
We believe that passion is the catalyst of everything we do. Passion is what drives us and keeps us on the path to constant improvement. Passion in doing things well. Passion in taking care of our customers.
We get more done when we work together and it is through building Trust. We aim to develop the trust of our customers through excellence of our services and quality of our products. Our staff trusts that the company will take care of them and recognize their contributions. Trust that your team will perform its best and support each other.
Our vision to be the leader in the industry can only be realized if we focus on Growth. We need to grow our business by reaching out and bringing more conveniences to more customers. We can only do this through Growing our workforce, training them and providing them with a long term career choice.